Panzer Commander Afrika

by UGG




[an error occurred while processing this directive]
Price:

Retail Price: 39,00 €
P 500 Price 31,20 €

P 500 Price with

29,25 €

Panzer Commander Afrika needs 500 preorders to be published!

How many Orders for Panzer Commander Afrika up today?

click here!

click here
Panzer Commander Afrika 1940/1941 is a two- (or multi-) player card game covering tactical combat in North Africa (Libya and Egypt) during 1940 and 1941. The game contains 220 cards that represent British, German and Italian forces.
Each vehicle card represents just one tank, halftrack, or truck; each infantry card represents one squad of infantry; and each anti-tank gun card represents one AT-gun and its crew. Moreover, there are cards representing typical terrain, equipment and special events.
Each card depicts in full color either a single tank, an infantry squad, an antitank gun, typical terrain, equipment, and special events. 
A space on the battleboard (your table top) represents roughly 500 by 500 meters and each shot equals five real shots. You will find that your playing time
closely approximates the time it really took to fight these battles in World War II.
PANZER COMMANDER AFRIKA 1940/1941 includes eight different scenarios.
Introductory Scenario: Tank Action (Tutorial), Sidi Barrani, 1940
Operation Compass, 1940
In December 1940 the British went over to the offensive and rapidly destroyed the Italian forces in Egypt and Libya.
Build Your Own, 1940
Sidi Rezegh, 1941
During "Operation Crusader" a wild armored clash took place at and near Sidi Rezegh.

Minefields!
A German armored force has run into a British position
Build Your Own, 1941
Free For All
In this scenario anything is possible - it is not even checked if a unit was available only in 1940 or 1941...
However, the scenario is great fun because all cards are used. In addition, only a minimum of preparation time is needed.
Panzer Commander Afrika uses the system of Tank Commander, The Eastern Front formerly published by Moments in History.
More details about Tank Commander see:
http://homepage.mac.com/ollor/wargaming/PhotoAlbum23.html

Panzer Commander Afrika is a complete, non collectible card game.

Sample cards
PCA P500 Customers who also own a deck of Tank Commander will get a bonus card for Tank Commander: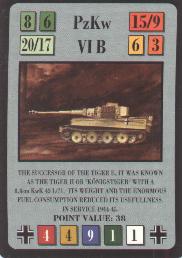 So if you signed up for a P500 order for PCA and already own Tank Commander please tell us, or if you are placing a new P500 Order for PCA
and own a copy of Tank Commander please inform us so that we can include your bonus card as long as we have hame left in stock.
Game Components
Each copy of Panzer Commander: North Africa includes:
* 220 full color stunning playing cards
* One Rules Booklet
* Two ten-sided dice
Box

Game Features
Designed by Uli Blennemann 
Series Designer John Desch and Uli Blennemann
TIME SCALE 1940/1941 
NUMBER OF PLAYERS  Two or more
Age: 14+